Lovely people out there, have you ever been engaged in a Family Project?
As busy mums/dads, it's not that easy to make enough time with your children, to play together and share great fun time with them, even if this wish is the most important thing for you, every day.
But....
What if...
... you could learn something new, and learn it together, to create with your hands?
... you could learn&teach how to reach a goal through commitment while supporting each other?
... this would be available at an affordable price, and you can go on making it every day from home altogether?

I'm offering to you the chance to join my Mood Family Blanket Project: it is an online CAL project that will soon become a Workshop in Amsterdam and in Nijmegen, where I will teach you all the skills that you need, to start your Mood Family Blanket!


I'm very excited about this idea! I know that it's summertime now, and the weather is hot... veeeery hot!! But I can give you at least 5 reasons why to start this project right now:
less pressure at work for parents
no school for children
free time to search for the perfect yarn
buying winter yarn now with summer discount!!
maybe some weeks of holiday when it is easy to make free time to plan altogether this big special project!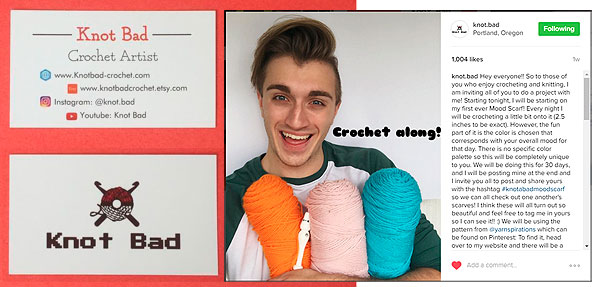 When I saw on IG the post of this happy boy from Oregon, Vincent, who was launching his Mood Scarf CAL, I suddenly fell in love with this idea! I was sooooo inspired that I've developed it into a personal version of a project connected with the mood of the day! And much more: I'd like to expand this mood project to a family! Yes, I'd like the idea to get involved in the project all the people who live together, the same who share with you the bathroom and the kitchen, and who you don't meet pretty often, even if you live under the same roof!
Well: when you choose to join this project, you will have a great "excuse" for leaving apart all the rest and finally share some quality time with your beloved ones! You don't need so much time: few minutes per day, half an hour per week :) and I'm pretty sure that you will enjoy it a lot!
And more: you will looking forward to meeting them for your date with the Mood Family Blanket!

You will set up together a common goal!
You will make time to play together!
You will create something unique together, and you will enjoy the making as a Family!
This summer time is the perfect moment in the year to start such a project (and maybe start the making during a rainy day...)

So let's do it together! :D
I teach you how to crochet your Mood Family Blanket!
You choose your favourite yarn!
We choose a date and a place together, to meet for a special workshop! What do you think about it?
Here is how to do it:

1Click here to join the FB event: https://www.facebook.com/events/1622571668058082/ 
and to be kept up to date on all the news of the project
2Click here to subscribe at the online CAL: http://eepurl.com/b-b9zT 
and buy the option that fits best with you, among the Basic Pattern or the Full Project.
3Follow the instruction that I'll send to you via email, together with the material and the pattern of the project.
4Enjoy the making of your blanket all together!
I'm looking forward to doing this with you all! What about you?? :D :D :D